A Year of Scams
Amazon Flex, COVID-19 Testing, PPP Fraud, Oleandrin, and Top Secret iPod
Happy Birthday ASD
This newsletter is officially one year old this week. I started ASD as a way to force myself to write non-work-related stuff each week. My initial goal was to make it four months, to the end of 2019. Now, here we are, a year later. How about that. Thanks to everyone who has joined me for the ride. I'd be lying if I said I was writing for an audience of one - your pageviews keep me going. Anyhow, enough of that. Back to your regularly scheduled programming.
Amazon Flex
The pandemic has been good to Amazon, boosting sales as people stay home and shop online. It's been good to Jeff Bezos, who has seen his net worth top $200 billion. Unfortunately, there are a lot of human beings whose job it is to pack and deliver all that stuff. Warehouses became COVID-19 hot spots, as Amazon took critical months to properly address the risks.
Those warehouse workers are actual Amazon employees, though. The delivery drivers, for the most part, are not. One of the more insidious things Amazon has done in the last five years is build out their gig network under Amazon Flex, their app-based delivery system.
Like the many other gig economy systems I write about, Flex encourages behavior like this:
A strange phenomenon has emerged near Amazon.com Inc. delivery stations and Whole Foods stores in the Chicago suburbs: smartphones dangling from trees. Contract delivery drivers are putting them there to get a jump on rivals seeking orders, according to people familiar with the matter.
It's easy to chuckle at a story like this - phones in trees! An amusing mental image. But the reality, as usual, is much darker:
That drivers resort to such extreme methods is emblematic of the ferocious competition for work in a pandemic-ravaged U.S. economy suffering from double-digit unemployment. Much the way milliseconds can mean millions to hedge funds using robotraders, a smartphone perched in a tree can be the key to getting a $15 delivery route before someone else.
That's a $15 route that could take a driver up to an hour to complete, not including their vehicle costs. These are the "instant" routes Amazon offers for things like grocery delivery. There are longer, multi-hour Flex routes that can pay $18 an hour, but are still contractor gigs the company takes no responsibility for.
Surely Amazon can monitor and catch these tree bandits, you may be thinking. Oh, don't worry, Amazon is definitely monitoring its Flex drivers and other gig workers. In the most sinister way, of course:
[…] internal documents, reports, and an online tool left on the open internet and viewed by Motherboard shows that Amazon has for years had a sophisticated, secret program and team to spy on its workers in closed Facebook groups.
Ahhhh, yes. Amazon corporate has infiltrated private Facebook groups to spy on its drivers for highly dubious reasons:
Amazon corporate employees are getting regular reports about the social media posts of its Flex drivers on nominally private pages, and are using these reports to diagnose problems as well as monitor, for example, drivers "planning for any strike or protest against Amazon." The reports have the full names and posts of drivers who post anything noteworthy in one of dozens of closed driver Facebook pages, intended for use by Flex Drivers.
It really is remarkable that Amazon - a notoriously anti-union company - feels it can do this to its gig workers, who aren't employees of the company. By absolving itself of the responsibility to pay Flex workers a salary, you'd think Amazon would give up the right to violate their privacy, sniffing around for potential discontent. Haha, of course not. Evil companies simply can't help themselves. They absolutely know what they are doing is unethical, based on these disclaimers, found on the login page to their monitoring tool: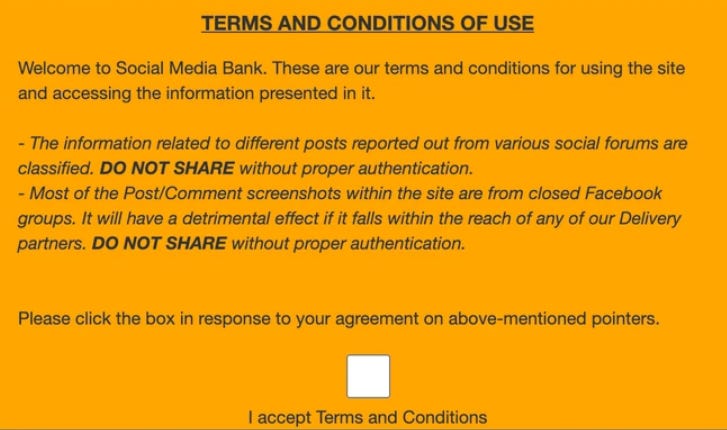 A "detrimental effect" if it "falls within the reach" huh. I enjoy the thought that some lawyer at Amazon had to find a way to paraphrase "into the wrong hands" so their login page didn't read like a spy thriller.
Lest we forget that employees at these big evil corporations are just as dumb as the rest of us, the files Vice found were left on an open AWS server. I'd add Don't Leave Evidence of Your Highly Unethical Behavior on an Open Web URL to my list of rules for scammers, but we need more exposure of these terrible practices by tech giants so lawmakers can maybe do something about it. Maybe. In the mean time, if you want to help support delivery workers, there's a global org attempting to fight for justice and fairness in the industry.
COVID-19 Testing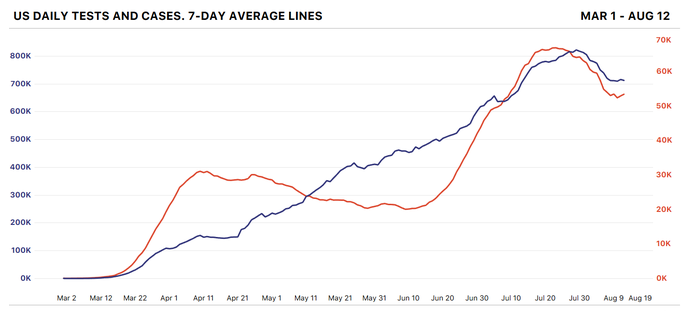 Remember back in April when the government passed a giant, multi-trillion dollar funding bill to help keep the economy alive and slow the spread of the coronavirus? Well, as is now obvious, we haven't done the second part. The US leads the world in COVID-19 cases, deaths, and things are only getting worse, not better. Much of this can be laid at the feet of our federal government, which has refused to do much of anything to control the virus.
In August, a Harvard epidemiologist named Michael Mina made headlines by proposing a strategy to curb and defeat the virus in a matter of weeks - test everybody, every day, and quarantine infected people until the virus is snuffed out. The best write-up of how this could work is here at The Atlantic. What is so incredibly frustrating about all of this is we could create enough tests, and we could stop the spread of the virus, if we gave a shit. Sadly, we do not, and our government has gone so far as to issue guidance to test less people as cases in the country soar.
Also, the money they did allocate for testing almost half a year ago isn't being spent:
Billions of dollars in federal funds earmarked for boosting nationwide Covid-19 testing remain unspent months after Congress made the money available, according to the U.S. Department of Health and Human Services.

[…]

According to HHS data, only about 10% to 15% of that total has been drawn down, meaning the cash has been spent or committed to various efforts.
Of course. By attempting to punt responsibility for testing to the states, the Trump administration has created more chaos and a web of competing markets for supplies, which are already in critically short supply because - you guessed it - the federal government hasn't done a fucking thing to help production.
Spokesmen for the government insist we are testing more people, but it's simply not true:
After surging through most of July, U.S. testing rates have slowed somewhat in August.

The seven-day average of new tests run was 709,347 on Thursday, according to the Covid Tracking Project, down from 781,156 a month earlier. There were weekly declines in testing in 21 states as of Thursday, according to Johns Hopkins University.
Cases are rising in half the country, as schools and colleges reopen with woefully inadequate safety measures. The ghouls at the NFL are actually opening some stadiums to fans in a week - in some of the states with the highest rates of infection.
Even if we elect a new president in November, we're looking at five more months of this insanity, with flu season right around the corner - everyone get your shots! If the government can get out of its own way and approve the manufacture of millions of at-home tests some Americans will be able to live their lives with relative safety, but that doesn't help the tens of millions who will likely refuse testing and put others at risk, like the "essential workers" who are forced to be around them to earn a living. Everything sucks, man.
PPP Fraud
This seems bad, and also completely predictable:
The criminal complaints read like catalogs of luxury bling: a diamond-laden $52,000 Rolex, a gambling spree at the Bellagio, two Lamborghinis, a pair of Cadillac Escalades, a Rolls-Royce. All that and more, law enforcement officials said, was financed through schemes to defraud the federal government's signature coronavirus relief program for small businesses.

The Justice Department has made at least 41 criminal complaints in federal court against nearly 60 people, who collectively took $62 million from the Paycheck Protection Program by using what law enforcement officials said were forged documents, stolen identities and false certifications.
It's nowhere near as nefarious as the unemployment fraud which is clogging state systems and starving real people of help they need, but it's still a problem. The government has shelled out $525 billion dollars via the PPP to more than five million businesses. Some of them didn't need the money, and some are taking it and not using it to protect paychecks, but at least those were real companies and not people dropping it at the craps table.
Finding the obvious grifters is the easy part, as the Times article demonstrates. The businesses who took the money and used it for other things are much harder to catch, and complaints are through the roof:
The challenge facing scores of state and federal agencies is enormous. The Small Business Administration's fraud hotline, which received fewer than 800 calls last year, has already had 42,000 reports about coronavirus-linked graft.
Some reports are downright disgusting:
Several workers told The New York Times that their employers had asked them to repay a portion of their earnings or work for free in the future. That wasn't allowed under the program's rules.
Making things more confusing, the government relaxed rules on how the PPP money should be spent after the program had already launched, creating two different sets of rules with very little clear guidance - a common theme with this administration:
In its formal guidance, the Treasury Department said borrowers must be able to show that they could not get access to other loans or cash sources in a way that was "not significantly detrimental to the business."

"It's a really gray standard," said Tyler Woods, a lawyer in Irvine, Calif., who has worked with corporate clients on their Paycheck Protection Program loans. He called that line "the big kicker that I think will get a lot of people out of jail."
I do not think people should go to jail for taking money from the government they don't need, though I am afraid government prosecutors will push for it as these investigations move forward. As always, the best way to hurt business owners who do unethical things is to take away their money. If we put every asshole business tyrant in jail, we'd run out of beds.
The PPP was a very American bailout bill - the US threw huge piles of cash at companies with no oversight, and later on will punish the ones who didn't follow the murky, confusing rules.
Of course, it didn't have to be like this. Normally I link to articles, but this headline in a NY Times piece really says it all:

Oleandrin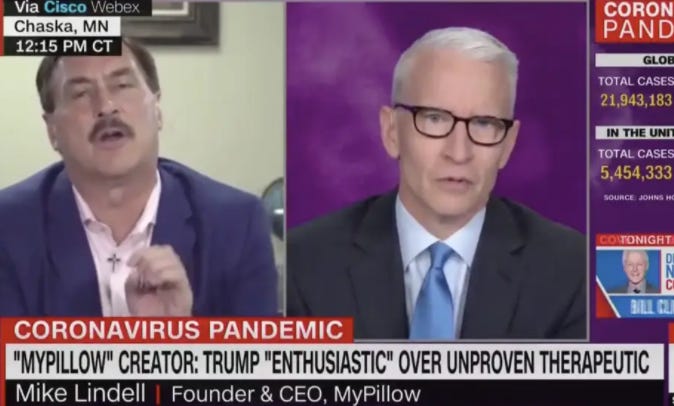 Speaking of pandemic-related scams, top White House officials and Trump supporters were pitching a fraudulent COVID-19 cure in July:
To the alarm of some government health officials, President Trump has expressed enthusiasm for the Food and Drug Administration to permit an extract from the oleander plant to be marketed as a dietary supplement or, alternatively, approved as a drug to cure COVID-19, despite lack of proof that it works.
The president has been flailing for a magic bullet to cure the virus for months now, so this is nothing new. The cast of characters is slightly different, and includes - because everything is stupid - the CEO of MyPillow, a major Trump supporter and one of the few advertisers left on Tucker Carlson's cable show:
MyPillow CEO Lindell, who is a major advertiser on Fox News and a personal friend of Carson and Trump, helped [Andrew] Whitney get an Oval Office meeting with the president in July to discuss oleandrin as a potential COVID-19 cure.
Ben Carson, the actual medical doctor and pyramid truther, also thought approving untested plant extracts as government-sanctioned virus cures is a great idea:
Lindell said that he, Carson, at least one lawyer and, briefly, White House Chief of Staff Mark Meadows, joined Trump and Whitney for the meeting. Notably absent was Hahn, the head of the agency that studies and approves medical treatments.
This whole story is dumb, everyone involved is a drooling moron or outright grifter, and I won't give it more oxygen. At least it seems relatively unlikely people will take oleandrin in large quantities and kill themselves, like the president's last bogus cure.
Top Secret iPod
While it's not about a scam, per se - I'll save my thoughts on defense contractors for another day - here's a fun story about the time some engineers from Bechtel made a secret iPod:
Without knocking, the director of iPod Software—my boss's boss—abruptly entered and closed the door behind him. He cut to the chase. "I have a special assignment for you. Your boss doesn't know about it. You'll help two engineers from the US Department of Energy build a special iPod. Report only to me."
If you're into somewhat nerdy How It Works stories there's also some interesting info about how Apple's early MP3 players were built. The author speculates the Department of Energy wanted to use this custom iPod to search for radioactive signatures - basically, a stealth Geiger counter. It's nice to read a story about a government agency building spy tools that aren't designed to violate our civil rights.
Short Cons
CNBC - "Herbalife Nutrition will pay $123.1 million to settle criminal and civil charges it bribed Chinese officials in government agencies and media outlets to boost its business in China"
NY Times - "Facebook on Thursday moved to clamp down on any confusion about the November election on its service, rolling out a series of changes to limit voter misinformation and to prevent interference from President Trump and other politicians."
NY Times - "The site, which presented itself as a recently created news organization, represented a new front in Russia's efforts to sway American voters ahead of the November elections."
The Verge - "Over the past few years, scammers have been pulling a bait-and-switch on consumers, using Instagram ads to sell clothes, accessories, and home goods."
Tips, comments, or birthday wishes to scammerdarkly@gmail.com