Turn on the Stabilizers
Gift Card Laundering, Self-Driving Tech, Fake Coronavirus Books, Medicare Fraud, and Scam Judge
Laundering Gift Cards
Last week I wrote about North Korean hackers who stole a bunch of cryptocurrency, sold and traded a bunch of it, and laundered some of the proceeds through iTunes gift cards. Many of the most common scams feature gift cards as payment vehicles, presumably because they are difficult to trace and can be emptied of funds quickly. My efforts to learn more about the gift card laundering underworld came up mostly empty - there aren't very many articles written about the phenomenon. It's difficult to estimate how much money is lost to scams each year around the world, but American seniors alone lose over $3 billion a year. The worldwide figure must run into the tens of billions. How is there so little attention paid to the ways these criminals launder their ill-gotten gains?
Anyhow, I did come across one piece in Forbes that sheds some light on what happens after illicit gift cards change hands. It's helpfully titled "The Idiot's Guide to Laundering $9 Million" and it includes some…alarming statements:
"Had the 9/11 terrorists used prepaid (stored-value) cards to cover their expenses, none of these financial footprints would have been available," observed a U.S. Treasury Department report. The IRS has declared prepaid cards "the currency of criminals."
In this case, the Idiot in question had purchased millions of dollars' worth of gift cards with stolen credit cards and used online marketplaces to turn them into cash. Since they used stolen credit cards and laundered the funds into US bank accounts, authorities were able to trace and catch the culprits. Had they been offshore, as the helpful Treasury Department folks explained to us above, the funds would have vanished out of the US banking system and into the ether.
This is…not a great system? The global market for gift cards was $338 billion dollars in 2018, and is estimated to grow around 6% per year. Surely companies who issue these cards - Apple being one of the biggest - can do something to improve the security of the ecosystem. Back in 2017, when the Forbes story takes place, the responses from retailers were less than inspiring:
At Walmart, you must show identification for gift card purchases of $5,000 or more, according to a spokesperson, and store managers have the authority to halt a transaction at any point. In 2014, drugstore chain CVS began requiring identification for $300 or more in gift card purchases; it also won't let you walk out of the store with more than $2,000 in gift cards in a given day.
The FTC tracks scam and fraud reports in a public database, and their most recent statistics peg the median loss per scam at $700, which is well within the daily purchasing limits of both Walmart and CVS. See if you can spot any other interesting trends in their report: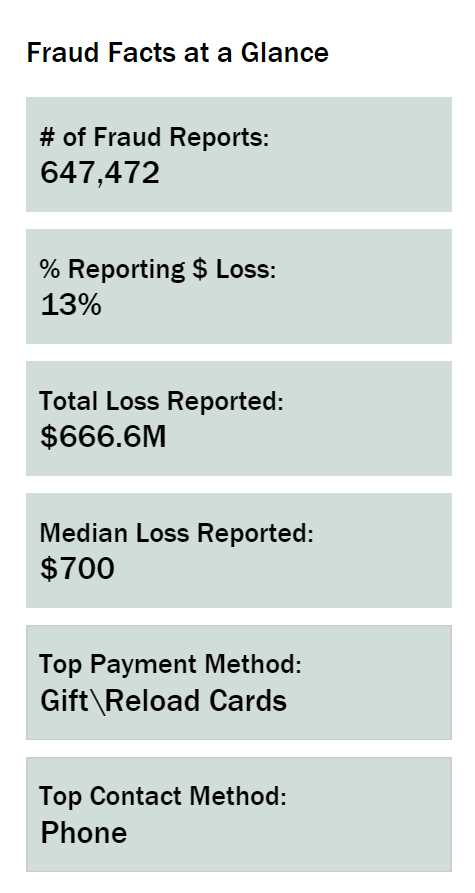 Huh! So with gift card fraud on the rise, companies seem mostly unwilling to do anything about it. Why is that, I wonder?
Back in 2011, the Treasury Department attempted to close a loophole that allowed drug cartels to move money across borders with gift and prepaid credit cards. You'll never guess what happened:
The department's Financial Crimes Enforcement Network (FinCEN) proposed that money stored on these cards count toward a U.S. requirement to report cross-border movement of cash of $10,000 or more.

But FinCEN later withdrew its proposed rule after pushback from the prepaid card industry, according to law enforcement sources. The move has not been previously reported.

[…]

The prepaid card industry opposed the rule, saying it would have discouraged people from using the cards.
Now, I realize I may not be a "normal" consumer, but I buy gift cards for distant relatives or friends-of-friends occasionally. Typically I'll spend $25 or $100 if I really like someone. Can someone - anyone - explain to me who the target consumer is who needs to put more than $10,000 on a gift card?
Industry lobbyists were able to lump prepaid credit cards - which can potentially offer some needed services to the un-banked - together with gift cards, which are "closed loop" and can only be used with specific merchants. Thus, gift cards remain largely unregulated, with only transactions over $10,000 requiring any reporting to the government.
So, you may be asking, why wouldn't Walmart or CVS be more interested in cracking down on gift card fraud? They are big profit centers for the retailers, with billions a year going unused on gift cards. It's become so lucrative that states are getting in on the act, starting to claim unused card funds to plug holes in state budgets:
As the Trump administration continues to cut federal funding for state programs, legislators desperate to make up the shortfall are turning to a patchwork of forgotten microtransactions you meant to spend on lattes or in-game wardrobe upgrades to help.
Cool. Gift card marketing has become so aggressive that many stores regularly sell them at discounts - yes, it's essentially free money - because they have profit margins to work with. No retailer has the kind of margins Apple does with iTunes. Their app store takes around 30% on everything sold, so it can afford to offer big incentives on its gift cards. Once the card is purchased, Apple already has the customer's money, and there's a chance they may not spend it at all! The company booked $10.9 billion in "services" revenue in a single quarter last year, the app store making up a sizable chunk.
Who's buying these gift cards? A lot of them go to people who buy virtual currency for mobile and online games. The tech companies got us addicted to their games, and are enabling criminals and cartels to launder their money through the way we are forced to pay for them. It's quite a picture of our modern economy.
I have reached out to Apple for comment on what they're doing to curb the money laundering on the iTunes platform, and will update if I hear back.
WayNo
Everyone has heard of Uber. Uber rose to the top of the US rideshare heap by lighting billions of Softbank dollars on fire, and capturing massive market share without making any money. Since 2016, Uber has spent over a billion dollars trying to build self-driving vehicle tech that would eliminate the need for human drivers - arguably the biggest cost of its ride hailing business. So, how's that going?
Well, Uber killed a woman in Arizona in 2018 during testing. They were in Arizona because the state had the most lax safety laws. Who was in charge of all of this? A guy named Anthony Levandowski. Uber hired him away from Google, where he had been running their self-driving car program, called WayMo.
Why do we care about Anthony Levandowski? Because he's in the news again, this time because he declared bankruptcy in the fact of a $179 million dollar judgment against him, on behalf of Google. Also, because he sucks in so, so many ways. Let's talk about a few of them!
First off, if you haven't read Mike Isaac's book Super Pumped, which details the rise and fall of the former CEO of Uber Travis Kalanick, go pick it up. Our friend Anthony features heavily in it, because he was at the center of a very public and very costly dispute between Google and Uber.
Levandowski got his start by entering the Darpa Challenges, a series of autonomous vehicle races. He was, by all accounts, a talented engineer, but his real talent was in generating buzz around his projects. His team built a self-driving motorcycle, he got sponsors amid a lot of hype, and the competition went well: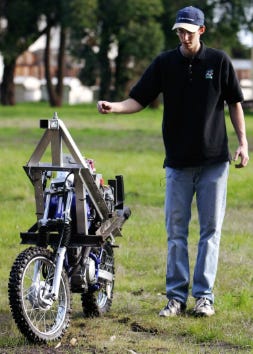 It didn't do much: Because Levandowski forgot to turn on the stabilizing system, the motorcycle fell over a few feet from the starting line. Even for a race in which no vehicle went more than 7.4 miles, it was a particularly ignoble failure.
It will make sense later, but I am absolutely dying at the mental image of his motorcycle making it off the line and tipping over. Anyhow, this early "success" led him to become a bit of a celebrity inventor, helping other engineers sell their lidar (my engineer friend describes lidar as "radar, but with light, capable of much finer detail and more accurate measurements at short range" for those wondering) and appearing on reality TV shows. In one, Levandowski rigged a Prius with self-driving tech and attempted to deliver a pizza in San Francisco. It suffered "one minor crash" along the way which really foreshadowed this guy's career.
Amidst all of this minor celebrity, Levandowski was hired by Google, and in 2008 he was put on their self-driving vehicle team. Prior to this Levandowski had founded two other businesses which sold products and services to Google, one of which Google bought for $20 million dollars, half of it going to Levandowski himself. Apparently this was an "open secret" at the company and they were okay with it - Google once encouraged its employees to work on their own projects as part of their jobs. If it seems a bit ludicrous to you that a well-paid employee was also able to run a 20-person start-up on the side selling tech to his employer and then cash out $10 mil from it, yeah, I feel you.
Despite making obscene amounts of money at Google - $120 million, according to court records - Levandowski was a toxic manager and some people refused to work with or under him. He was sidelined and taken off the self-driving project, which pissed him off. When Travis Kalanick and Uber came calling, he was eager to talk.
What happened next has been the subject of a lot of court testimony but basically, once he'd decided to quit, Levandowski downloaded 14,000 files from Google (WayMo) and resigned. Four months later, he announced his new project - a self-driving truck company called Otto. He hired away employees from Google to staff his team and - wouldn't you know it! - three months later Uber announced it had acquired the start-up for $680 million dollars. Levandowski came on board, and took over Uber's self-driving program. All very normal stuff!
Then, lawsuits happened. WayMo sued Uber, Google sued Levandowski, and Uber fired Levandowski. Levandowski went on to found another self-driving company called Pronto, which is making kits to help commercial truck fleets drive "more safely". Investors are still funding this venture because, sure, why not.
Then! In August of this year Levandowski was charged by the federal government with 33 counts of theft and attempted theft of trade secrets:
The criminal complaint filed by the U.S. Attorney's Office in Northern California alleges that in the months before he abruptly resigned from Google in January 2016, Levandowski downloaded and copied key files onto his laptop. He then used those trade secrets to create his own self-driving truck company called Otto, according to the documents. Months later that startup was acquired by Uber for roughly $680 million.
Not to be confused with the arbitration case with Google which Levandowski recently lost, leading to the bankruptcy filing. That lawsuit alleged Levandowski had secretly poached former Google colleagues to work at Otto. I know it's a lot of to keep track of, but this guy has been busy.
So, Levandowski is now claiming bankruptcy protection - with an estimated net worth of only $50 to $120 million. He's facing a giant settlement with Google, and has to pay legal fees to defend himself from federal criminal charges, which could land him in prison.
There's some question whether the charges the government is bringing against him will stick, and perhaps for good reason:
Cases brought against employees like Aleynikov and Levandowski have been controversial, in part because the nature of the modern workplace often necessitates the transfer of company information to personal computing devices like iPads and home computers during the normal course of work. When an employee leaves, it's difficult to determine whether that employee purposely stole information or simply possessed it.

Google allowed Levandowski, for instance, to work on a personal start-up while also working on Google's top-secret self-driving car division.
I am not a fan of the government re-appropriating old laws, or twisting them in ways they may not have originally been intended to be used:
The former Fitbit employees and Levandowski were charged under the Economic Espionage Act, passed by Congress in 1996 in part to combat state-sponsored industrial espionage. While the law has been used to help curb countries like China from stealing secrets from U.S. companies, it has also been used to punish employees who leave one U.S. company for another, allegedly taking proprietary information with them.

One of the most famous cases was the prosecution of Sergey Aleynikov, a Goldman Sachs employee sentenced in 2011 to eight years in federal prison for taking computer code to a high frequency trading start-up. Aleynikov's conviction was overturned on appeal.
It certainly seems like the government is trying to make an example out of Levandowski, who is not what I would call a sympathetic character. He did a lot of really shady shit! Charge him for, I don't know, killing someone through negligence while at Uber. On his list of potential crimes, "taking some files on a laptop" seems fairly minor. Law enforcement becoming an enforcer of workplace contract disputes on behalf of employers is not going to end well for the rest of us.
I was surprised I hadn't written about Levandowski before, since he has been one of Silicon Valley's most prolific tech frauds in recent years, but now that he's caught himself a case, we can all feel a little better than he may have to temper his ambition and learn to live modestly, which in San Francisco means $50 to $120 million dollars, if you don't want roommates.
Ay, Corona!
If you head over to Amazon and type in "coronavirus" you will be shown a listing of books and products to help keep you safe during the pandemic. Maybe. As it turns out, scammers are creating plagiarized books and gaming Amazon's search results to appear at the top:
At first glance, Richard J. Baily's book, "Coronavirus: Everything You Need to Know About the Wuhan Corona Virus and How to Prevent It," appears to be an authoritative deep dive on how to prepare for the pandemic.

The book was the top "coronavirus" search result on Amazon for many users Tuesday — and not just in Amazon's books section. The guidebook appeared before Clorox wipes and hand sanitizer, let alone any book written by a doctor or public health specialist.
Not only is the book a literal copy and paste from news stories about COVID-19, the author doesn't appear to exist either. Amazon claims they are taking steps to prevent this:
"Amazon maintains content guidelines for the books it sells, and we continue to evaluate our catalog, listening to customer feedback. We have always required sellers, authors and publishers to provide accurate information on product detail pages, and we remove those that violate our policies," an Amazon spokesperson said.
However, uh:
No contact information is provided for Baily or Wang, who both have empty author pages with no biographical details. The contents of the books offer no credentials for their authors. The books do not appear to have a traditional publisher, and orders for physical copies of the books are printed using an on-demand book printing service.
I guess, in a way, having an empty author page is providing accurate information, in this case. This is not a new problem, though it takes on a particularly grim importance in the face of a worldwide public health crisis. The largest e-commerce marketplace in the United States is actively peddling misinformation, because it is unable to police its platform. While it's not an apples-to-apples comparison with Facebook's enabling of the genocide in Myanmar, it is another case of tech companies being unwilling to address the very real world consequences of their structural failures.
Amazon has known about this problem for years, and has done little to stop it. Here's a New York Times piece from last year talking about the problem:
But Amazon takes a hands-off approach to what goes on in its bookstore, never checking the authenticity, much less the quality, of what it sells. It does not oversee the sellers who have flocked to its site in any organized way.

That has resulted in a kind of lawlessness. Publishers, writers and groups such as the Authors Guild said counterfeiting of books on Amazon had surged.
I have written about fake reviews and counterfeit goods on Amazon in the past, but the problem of fake or plagiarized books is one Amazon has had years to address and chosen not to:
In Amazon's bookstore, the unruly behavior has been widespread, aided by print-on-demand technology. Booksellers that seem to have no verifiable existence outside Amazon offer $10 books for $100 or even $1,000 on the site, raising suspicions of algorithms run wild or even money-laundering.
The Times doesn't put too fine a point on it:
This is not really negligence on Amazon's part. It is the company's business model. Amazon, which does not break out revenue or profit from bookselling or publishing, assumes that everyone on its platform operates in good faith until proven otherwise. "It is your responsibility to ensure that your content doesn't violate laws or copyright, trademark, privacy, publicity or other rights," it tells prospective publishers and sellers.
As I once said, putting it mildly:
Amazon's hands-off approach to verifying the authenticity of items has a lot of real world consequences.
In this case, the real world consequences could be killing people with fake coronavirus books, or obstructing their access to good medical information. It's reassuring to know that during any crisis, bad actors will exploit vulnerabilities in our global marketplace to make money. It's extra reassuring to know that the elite class of tech engineers and executives not only aren't aware but clearly don't give a shit any of this is happening.
Private Bounty Hunters
I have written quite a bit about Medicare fraud. Since the government introduced an element of privatization to the service in the 1980s - yes, of course it was Reagan - companies have been stealing billions from the government by over-billing for services.
This piece in the New Yorker talks about the whistle-blowers who have been involved in exposing some of the biggest Medicare frauds in our country's history. It's a compelling read if you're so inclined, but as usual I am going to talk about the fraud, and less about the whistle-blowers. I'm sure they are lovely people, but this is what I'm all about:
[Sewell] believed that Freedom was intentionally rooting out sicker, more expensive enrollees by having sales agents target them and then encourage them to leave Freedom, an illegal practice known as "lemon-dropping."
Lemon-dropping, huh. When an illegal practice is so common you come up with cute names for it, that can't be a good sign. What else were these crooks up to?
Sewell told her that he believed Freedom was "cherry-picking"—recruiting healthy enrollees who needed little or no medical care—in addition to lemon-dropping. He said that the company had offered sales agents cash bonuses for getting seniors who required a lot of health care off Freedom's insurance rolls.
Cherry-picking and lemon-dropping. So we've established that some of the smaller companies can engage in questionable practices and get caught up in whistleblower stings. Surely the big, publicly-traded companies with high profile CEOs don't engage in the same stuff:
In 2017, the Department of Justice joined a multimillion-dollar case against the nation's largest insurer, UnitedHealth Group, alleging widespread fraud dating back to 2006. The Justice Department is also investigating several other health insurers, including Anthem, Humana, Cigna, Health Net, and Aetna. An analysis co-authored by Fred Schulte, at the Center for Public Integrity, estimated that insurance companies had received nearly seventy billion dollars in undeserved Medicare Advantage payments between 2008 and 2013.
That's $70 billion in theft from the United States government by health insurers in five years. Or, maaaaybe it's even more?
Peter Budetti, who served in health-policy roles in Congress and as a deputy administrator at the Centers for Medicare and Medicaid Services (C.M.S.), told me that experts believe the real figures are up to ten times what the government actually recoups. "We've never been able to get a direct measure of exactly how much fraud there is, but one of the clearest indicators is that, the more money is spent on fighting fraud, the more money is recovered by the government," he said.
Come on! Seriously?? Do these companies make any legitimate revenue, or is the entire Medicare Advantage system premised entirely on fraudulent billing?
Fraud perpetrated by companies in the health-care industry, he said, is especially pernicious. "On the one hand, they are stealing public money," [Budetti] told me. "And on the other hand that money is not going to where it's supposed to go, which is to taking care of people. They aren't stealing from people who are selling imported shoes. They are stealing from people who would otherwise be immunizing kids or delivering babies. That's the heart of it."
Hey now, let's not knock the imported shoe market. But Budetti brings up a good point, which is that the $70 or $700 billion dollars in Medicare fraud isn't just going into the pockets of shareholders and health insurance executives, it's coming out of the care delivered to the people it's supposed to be helping. This is why it's especially maddening - the government tasked with overseeing the health program for more than 60 million seniors is absolutely asleep at the wheel, as the corporate profiteers run wild.
The chief law enforcement officer in the United States right now is not a big fan of whistleblowers, or really any corporate accountability:
Critics of the whistle-blower payments argue that the windfalls could encourage people to induce corporate sabotage. William P. Barr, President Trump's nominee for Attorney General, has called the False Claims Act an "abomination" spurred by "the mercenary motives of private bounty hunters."
Yes, how did it go for the mercenary bounty hunter in the Freedom case? He was blackballed by his former employer for two years, nearly went broke, and then suffered a clot in his brain after a fall at home and died at age 39. Three years later, after the government finally joined the case as a plaintiff - keep in mind the FBI had been using Sewell to wiretap and gather documents on Freedom for years - the company settled for $31.7 million dollars. Sewell's estate got $6.4 million, though the lawyers got a sizable chunk. The owner of Freedom sold the company to Anthem for more than a billion dollars.
Scam Judge!
Last week I wrote about Judge Mike Cummins, who legally changed his name in order to try to win a judicial election in Los Angeles. It didn't work, and he got obliterated:

I don't know whether Judge Mike would have been any good as a judge, but he certainly stirred up the race, and forced his opponent to put out videos like this explaining he's not currently a judge: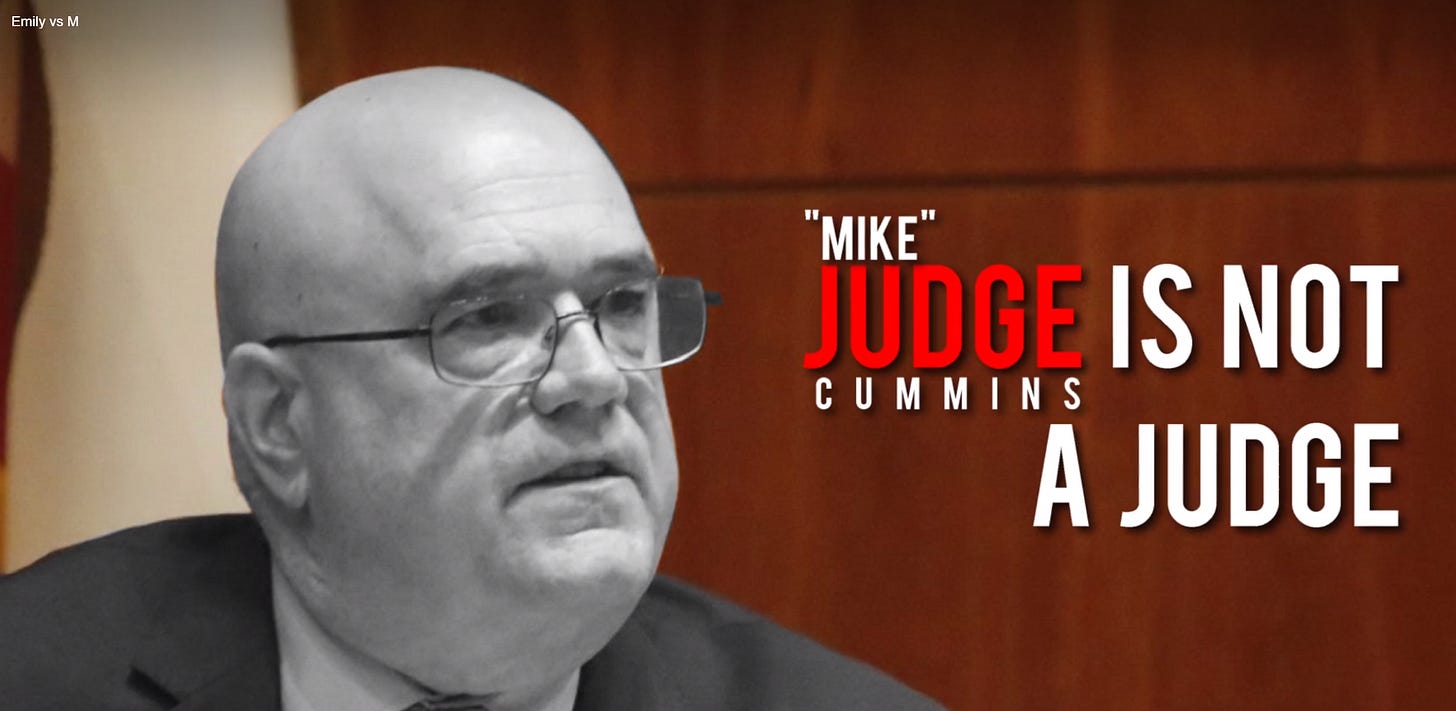 Ah, to be a retired white dude with nothing better to do than run for DA and judgeships. Does he make his friends call him Judge Mike?
Short Cons
WSJ - "…the CFPB said Cincinnati-based Fifth Third knew for years that employees were opening unauthorized accounts but didn't do enough to monitor or adjust sales goals and incentive-based compensation programs to discourage the behavior."
New Republic - "Millions of readers visit Zero Hedge each month, drawn by the site's deeply pessimistic view of Wall Street and its alarmist, conspiratorial take on international affairs. In the world according to Zero Hedge, the financial markets are always on the verge of collapse and the United States is always a power in decline."
The Atlantic - "But a simple intuition had propelled Trump throughout his life: Human beings are weak. They have their illusions, appetites, vanities, fears. They can be cowed, corrupted, or crushed. A government is composed of human beings. This was the flaw in the brilliant design of the Framers, and Trump learned how to exploit it."
Tips, corrections, love letters to scammerdarkly@gmail.com